After you complete a sale and the funds appear in your Cash Balance you will be able to either withdraw to your Transferwise, Payoneer, Skrill accounts, or to your Bitcoin wallet.
To request a payout, follow the steps outlined below:
Website:
Go to Menu > Wallet > USD Wallet > Withdraw
Select your payout provider of choice
Enter the desired amount (or use Withdraw Max to withdraw all) and press "Confirm Payout"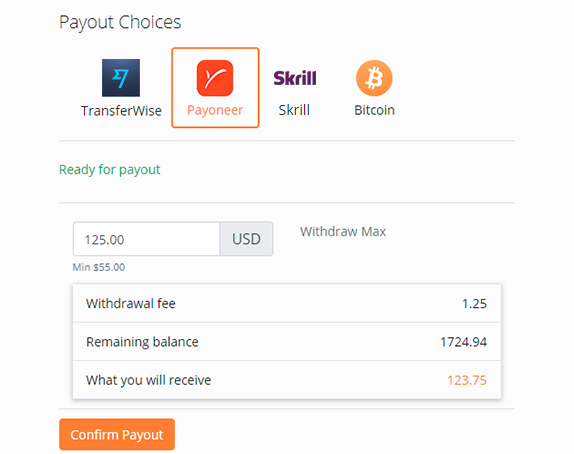 App:
Menu > Wallet > USD Account > Available (under Cash from Completed Sales)
Select the option available or appropriate for you
Enter the Request Amount and press Next
NOTE: images with all the payout options will be available soon.
Current Payout Options:
Transferwise
Transfer money easily and quickly with low-cost money transfers. Withdrawals withTransferWise are possible in the following currencies: USD, ARS, AUD, CAD, DKK, EUR, GBP, HKD, IDR, INR, JPY, MXN, NOK, PLN, SEK, SGD, and VND. Simply use your registered email address and you'll receive a secure link to enter your bank details. Transfers are typically fast, and there's no need to create a TransferWise account.
TransferWise charges fees depending on the currency you choose to receive. Withdrawing to a non-USD currency means you're converting funds from USD to your currency, and TransferWise will charge you a percentage of the total amount. On average it's 0.70% but it varies by currency, you can see how much fees incurred here.
Check our article here to see a step-by-step tutorial on how to make a Transferwise withdrawal.
Payoneer
With more than 200 countries supported, get easy and reliable international bank transfers with Payoneer. Create your Payoneer account here and enjoy lower payout fees. If you encounter issues, please visit Payoneer's Support Center.
Skrill
You can now use Skrill to payout your sales proceeds from Gameflip. In business since 2001, Skrill is a proven payment solution that offers a reliable digital wallet to gamers worldwide. To create a Skrill account, simply go through the Gameflip payout flow on your Gameflip Wallet, choose Skrill and click on the "Skrill account" link located on the Important warning. If you would like, you can also create a Skrill account here.
Bitcoin
In order to be able to withdraw to Bitcoin, you'll first need to apply through Gameflip and be approved. Once approved, you'll be able to request a withdraw to Bitcoin. Please note that the payout for the withdrawal request can take up to 1-4 days to be paid, depending on the Bitcoin network congestion. The Bitcoin exchange rate will be determined at the time of when the payout occurs, not when the withdrawal request occurs. This means that depending on the exchange rate, you may receive more or less than expected at the time of withdrawal request. Exchange rates are always converted from USD > BTC. Please see How to withdraw Bitcoin for more information.
Withdrawal Fees
Transferwise
$0.00 to $5.00: Not available
$5.00 and above: 1.00% + $0.50 USD
Payoneer
$0.00 to $55.00: Not available
$55.00 and above: 1.00% + $1 USD
Skrill
$0.00 to $4.99: Not available
$5.00 and above: 2.00% + $1 USD
Bitcoin
$0.00 to $99.99: Not available
$100.00 and above: 2.50% + $2 USD
Payout Restrictions
Starting on May 1st, 2019, payouts will have the following restrictions:
Payoneer
- Up to $5,000.00 per payout request
- Up to $10,000.00 within rolling 7 days window
For example: If a seller requests two payouts of $5,000.00 for two consecutive days, he/she will have to wait 6 days to be able to request up to $5,000.00 (referring to the first payout he/she made).
Skrill
- Up to $5,000.00 per payout request
- Up to $10,000.00 within rolling 7 days window
Bitcoin
- Up to $3,500.00 per payout request
- Up to $7,000.00 within rolling 7 days window