From the web or app, view the sold listing (Menu > Listings > Sold), and you will see the instruction on how to send the item (or shipping if physical item) to the buyer. If you have our mobile (iOS/Android) app, you will receive notifications on your mobile device.
Before sending the item, especially if it is a digital item, you MUST check that the item has been sold by viewing it in Menu > Listings > Sold and only follow the instruction on the Gameflip site or app. Gameflip must successfully collect the payment from the Buyer before instructing you to send the item.
Below is an example of what it could look like for a gift card you just sold.
Depending on what you sold, the instruction for you to send the item may look slightly different. Below are some examples:
Coordinated Transfer
In coordinated transfer, you can select the period of time for delivering the item to the buyer and it is very important that you send it within the promised time frame. You must contact the buyer given his/her username (a.k.a. Gamertag, Player ID, etc.) Via Gameflip messaging (on the transaction chat), you work out a date/time to meet virtually (e.g. inside the game) to deliver the item or similar means.
Sending A Code
If the item you sold is a code, you can send it (manually) using the instruction provided as shown in the example below. NOTE: We recommend using Automatic delivery (Digital Vault) for faster transactions for codes.
When choosing Automatic delivery, you need to type in the code or card Serial Number and PIN in the Digital Vault.
Any agreement made between you and the buyer MUST be through the messaging system provided by Gameflip so that we can help resolve any subsequent conflicts or disagreements.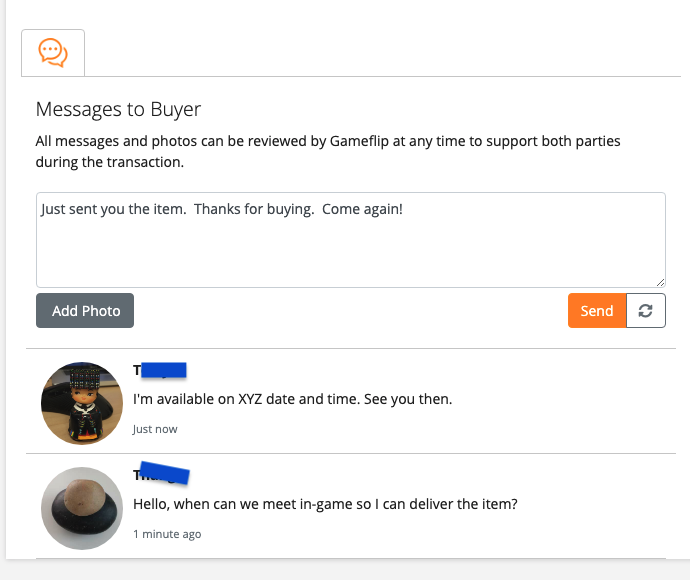 Once the item is sent, you must mark the item as delivered by confirming and clicking the "I've delivered the item" button.