Some codes are restricted by region or server. Please look carefully at the code's original description to see if any restrictions apply and make sure to include this information when selling the item.
As a seller, you MUST disclose any region restriction in the Region / Server Restriction section of the listing details. If you do not do this, the buyer may receive a refund if they are unable to redeem the item.

To cover all bases we also recommend that sellers clearly state the region restriction in the listing title and description. Again, you MUST list any region restrictions in the Region / Server Restriction section. This will prevent any misunderstandings.
As a buyer, you can quickly glance at which listing has region restriction with the locked globe icon as shown below. For web users, you can hover over the icon to view which region the item is applicable to. The globe icon without lock means there is no region restriction.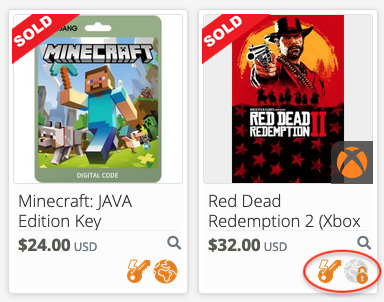 *In the image below there is an example of a listing restricted to the US only.
A listing that states a region restriction, can only be used in that region.
If you purchase a code that is not available in your region, then you cannot activate and play it.
In case you purchase a listing that does not have the region/server restriction stated and it is in fact restricted to a region you must open a dispute.
Note: If a dispute related to Region Restriction was decided in your favor, you cannot resell this code, the code belongs to the other party and if you resell it your account can be penalized.
Note: If you purchase a code from another region and such restriction is clearly described in the listing restriction, the purchase won't fall under the Gameflip Guarantee, thus no refund will be possible.