To be able to withdraw your Cash Balance to Bitcoin, you'll first need to apply through Gameflip and be approved. Once approved, you'll be able to request a withdraw to Bitcoin. To apply for the ability to withdraw your Cash Balance to Bitcoin, follow the steps outlined below.
Application and Approval process
In order to apply for Bitcoin payout, you will first need to have at least sold 20 items on the Gameflip marketplace. Also, you must have a minimum of $100 available in your Gameflip wallet.
When applying for a Bitcoin payout, you will need to verify your identity. We'll ask you to provide us with some personal information and supporting documents, according to AML/KYC Policy to prevent fraud causes. Follow the steps below to complete the application process:
Website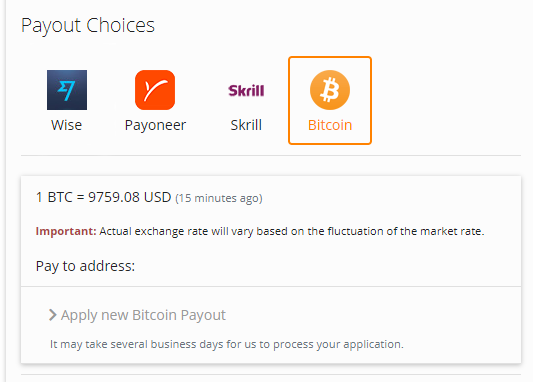 We require a valid phone or utility bill that displays the address linked to your Gameflip account to approve all bitcoin payout applications. Make sure all information inputted is correct and accurate as you will not be able to change any information once approved.
Bitcoin Account Details
You'll need to enter your Bitcoin Address and Bitcoin Wallet Provider next. Warning: You're responsible for entering your correct Bitcoin address. Incorrect Bitcoin addresses will result in loss of funds.
Bitcoin Account Holder Info
Lastly, you'll need to complete the form below with your full legal name, date of birth, ID number, and a photo of the front and back of your ID (scanned IDs will not be accepted). Acceptable IDs include Driver's license, passport, or national ID card.
The US anti-money laundering law requires us to collect and store account holder identity information for Bitcoin payout. Your identity information will only be used for processing Bitcoin payout and is encrypted on our server.
Once you've filled out every field on the form, make sure to double-check that all information inputted is correct and accurate, then click "Submit Application". Please note that it may take several business days for us to process your application.
Request Payout
Once your Bitcoin application has been approved, you'll be able to request a withdraw to Bitcoin from your Cash Balance. To request a withdraw, please follow the steps outlined below:
Website
Go to Menu > Wallet > USD Wallet > Withdraw
Click Bitcoin under "Payout Choices" and enter your Bitcoin information
Enter the amount in the "Payout" section and press "Confirm Payout"
Once you've requested a withdraw, the request can take up to 4 days to be paid out.
Payout Restrictions
Starting on May 1st, 2019, the Bitcoin payouts will have the following restrictions:
- Up to $3,500.00 per payout request
- Up to $7,000.00 within a rolling 7 days window
For example: If a seller requests two payouts of $3,500.00 for two consecutive days, he/she will have to wait 6 days to be able to request up to $3,500.00 (referring to the first payout they made).
NOTE: the restriction also applies to PayPal
If you reached such a restriction, you may select another payout method that fits your needs.

Exchange Rates
Bitcoin exchange rate will be determined at the time of when the payout occurs, NOT when the withdrawal request occurs - BTC payout occurs during business days (Monday thru Thursday), meaning that if you request a payout during a Friday to Sunday or a holiday, the exchange rate you will see will be from the next business day.
This means that depending on the exchange rate, you may receive more or less than expected at the time of the withdrawal request. Note that different wallets may use different exchange rates and exchange rates are always converted from USD > BTC.
Transfer Fees
The fee rate is shown at the time of withdrawal. We strive to keep fee rates stable, but bitcoin fees can vary wildly at times. Hence, although fee rates rarely change, it can change when the bitcoin transfer fee fluctuate wildly.
Bitcoin withdrawal requests are available for amounts greater than $100 USD.
$0.00 to $99.99

Not available

$100.00 and above

2.50% + $2

USD