Before listing any Gigs, you need to know what is NOT allowed on Creative listing. Check this article to learn more about this.
Note: If you list any of the content described in the article linked above, you will be warned. If you insist on listing such content, your account might be suspended for a period, if not, permanently.
Now, let's check how to properly create a Creative listing with some tips and tricks. This is a listing example for Logo Design: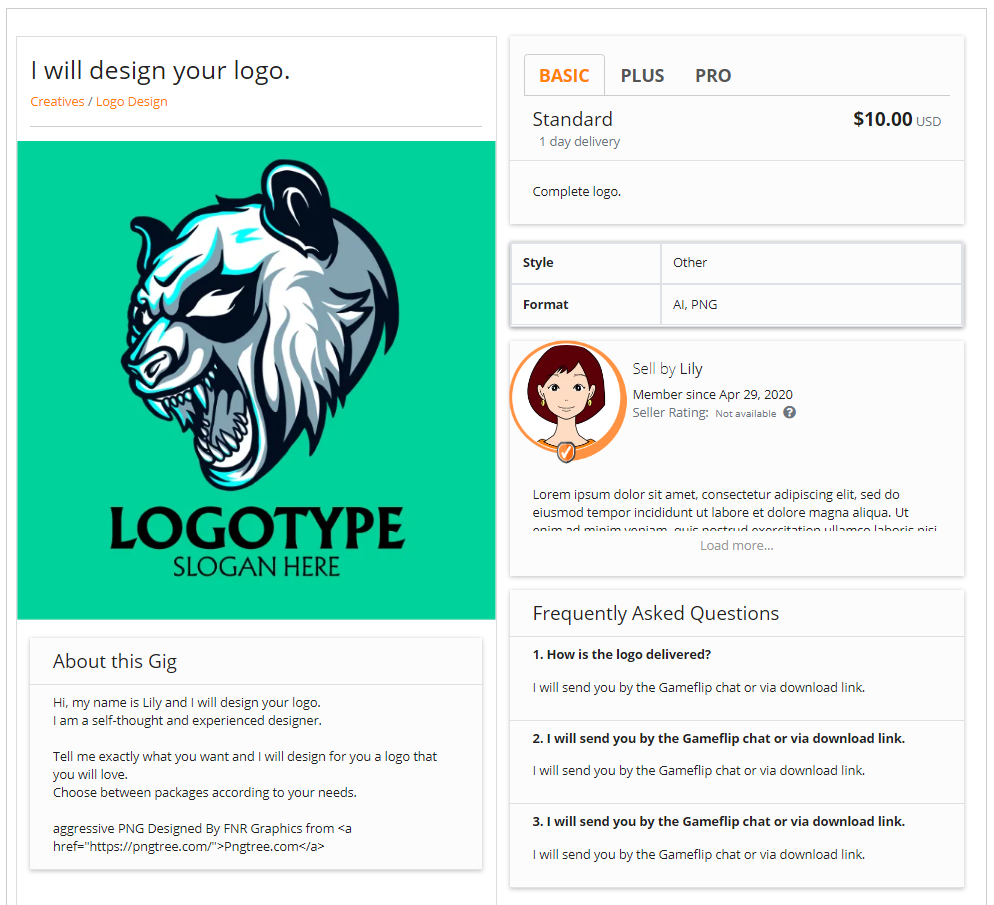 Step 1 - Description
Style and File Format: Select the ones that match both the style of the logo and the file format of the image;
Description:

Describe your gig in as much detail as possible. Buyers like to understand perfectly what they are getting before making the purchase. This is also important to avoid confusion and disputes. Here is the place to detail your achievements to convince the buyer;

Title:

Keep it simple and be clear. The example, "I will be your personal Fortnite coach" describes what the gig is about. Insert the name of the game without abbreviations, this also helps on searches;
Step 2 - Pricing
Choose between a 1-package or 3-package listing (Basic, Plus, and Pro);
Package name: Keep it short and simple. You can brand the name with your own ideas;
Package description: Focus on explaining the core differences between each package if you chose a 3-package listing;
Delivery time: Be precise with the timing. Not delivering a gig within the original listing delivery time will cause the sale to be canceled.

It is a good measure to add your available times and your time zone;

Price: Compare your service to others being offered in the marketplace to be competitive.
Step 3 - Media
To make your service stand out, be creative and original with your image. This is the first element that buyers will see;

Use colors and elements that translate well to your service;

Use images that correctly display the contents of your listing;

Do not abbreviate any name (Photoshop to PS), if you do that, it is less likely that your listing will appear in any search.
Step 4 - FAQ
The FAQ section is optional, but it's another opportunity to make your listing stand out from the rest

Add questions and answers that buyers might have to increase the chances of sales

Think ahead which questions would you ask if you were the buyer, and answer them here.

Add the questions frequently asked on your chat here.
Step 5 - Publish!
Ready to list your Creative service? Review your image and text before you publish to catch any typos and errors.
Remember! The Gameflip Guarantee is offered free of charge to all buyers and sellers on Gameflip, but if your listing fails to describe accurately the service you offer, the Gameflip Guarantee will only cover the buyer.
Step 6 - I sold my GIG, what should I do now?

Now you need to deliver your service. Please don't forget to send us evidence of the service complete through the image upload request once you confirm you delivered it.
Additional tip:
Be responsive and polite! Answering your buyers will help engage them into your business, they might purchase more from you and will help spread a good word about your store!
Questions? Join our forum for Creative discussions.